October is here and that means the Inktober challenge is on the go. The Bohemian's Minds artists have joined this challenge again this year, and we look forward to reading about their thoughts and struggles during this fantastic creative journey.
What is Inktober?
Inktober is a challenge for artists created by Jake Parker. You have 31 days in October to draw 31 drawings with ink. You will get a list of 31 prompts a month before the challenge starts. The rules are to draw in ink, but you can also use a pencil. Draw it, post it, hashtag it with #inktober or #inktober2022 and repeat. As simple as it is. It's not too late to join as still, as a few days till the end of October remains.
You can find all the information on their official page – https://inktober.com/.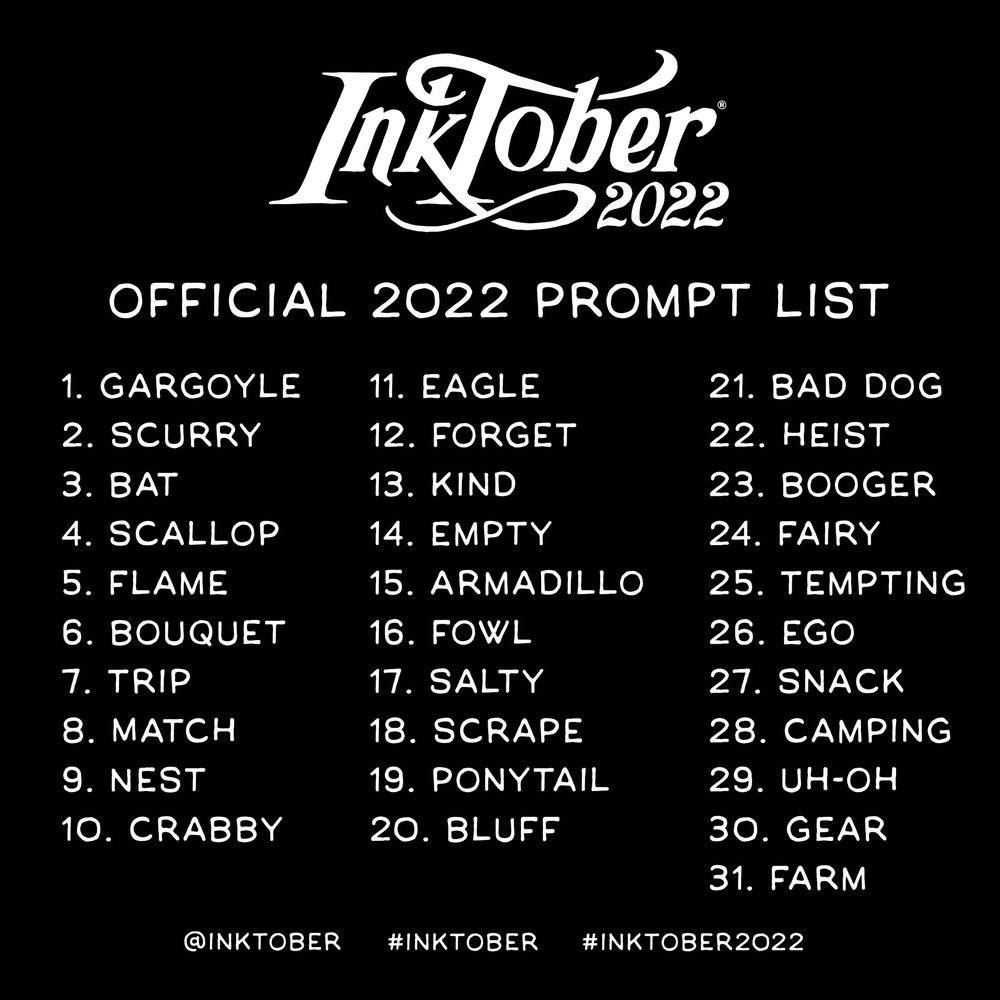 No more theories – let's see what our artists created and how is the challenge for them so far.
Erika Retiz
This year I didn't feel really committed to the challenge, I didn't really connect with the themes that were proposed but I still tried to do the best I could even though I felt that it didn't call me much. Suddenly I realized that I was overthinking things when I sat down to draw… Just my internal judgment was very big when in fact I started this challenge just for fun and that's how it should continue, in the end, who really cares… is me, the things you do in life are to please yourself and maybe with a stroke of luck we will find someone out there who likes what we did and that's it…
Mackenzie A. Parker
My third consecutive Inktober challenge and #Inktober2022 have proven the most rewarding, yet! For me, despite a more-than-usually busy month, I managed to at least *look to the Inktober 2022 challenge prompts each morning or night. While I did not find each of them motivated, I managed to put ink to paper more times than any year before – and that's something to be proud of! Grateful to the global Inktober challenge for reminding us to exercise creativity as often as possible, and to quiet that inner judge.
One change I committed to this Inktober 2022 was not to research/study how to draw any content. Many prompts got my creative juices flowing, and I recognized that so many objects and ideas I had never drawn before. Instead of researching "How to draw….", instead I chose to trust my intuition, and allow my own inspiration and imagination to guide the pen. To my surprise, I impressed myself, I laughed at myself, and I was shocked and challenged by many!
Prompts
Day 1 Gargoyle – Never drawn a gargoyle before, nor really paid them much attention! Though I wanted mine to be friendly! And then I wrote "Gremlin" by accident… hehe!
Day 5 Bouquet – This one I knew right away I wanted to make a bouquet of bones… which I had certainly never drawn before! Again, never drawn a skull, hip bone, tibias, or any bone before in my LIFE! It's a scramble, but overall I was pleased to try and challenge myself!
Day 7 Trip – My mind went right away to a psychological trip, and I thought to flip the narrative. Instead of our waking selves resting in a dreaming/tripping state, I drew (again, from scratch, without references!) a grim reaper dreaming about waking life… I'm more proud of his death detailing than the laziness I succumbed to when designing the 'dreaming life' part.
Day 9 Nest – HA! This one was very obscure and imaginative… I thought of someone's hair as a nest and representation of the external world in chaos and disorder. Then I attempted (eek…!) to symbolize the inner world of peace, calm, love, connection, kindness, and community as 'eggs' within the nest. The face is terrifying haha!
Day 11 Eagle – This one is the most disappointing for me, haha! I hoped to draw some bad-ass death eagle, and he looks like a dead cartoon Seagal. I gave up quickly on this one :D!
Day 12 Forget – Forgetting mid-way through a sentence… happens far too often :D!
Day 16 Fowl – A little play on concepts here – again, never drawn bones, let alone a bird skeleton! So I'm proud of my guessing imagination. Second play-on-words, a foul smell…
Day 17 Salty – This one started interestingly and fell flat part way through creative time… don't snort salt… or anything for that matter… 😀 !
Marek Gabriel Kovar
This is the 5th year Inktober I put myself in this amazing challenge and I always finish it on time except for the last year when I was 3 days late, but I finish it and that's what counts for me. Even if you won't do it all, or you won't do it in the time, it's not about it. It is about trying and keeping going! And this challenge is always a big inspiration and a keeper of doing ink Art.
This year feels very intense for me. I don't know why, but October is one of the busiest months of the year and this year is no exception. I only made 4 drawings so far, so it's pretty tight to finish it, but I believe I can do it, even though I got many other projects on the side. It's just about to grab an ink pen and draw. Every time I draw I feel so much relief and relaxation. It is amazing to watch the ink creating a new world of monsters and creatures. Well, it doesn't necessarily mean in your imaginary world are monsters, but they are in my world. And I love to come up with another monster character and kind of let go of all my inner demons and bad thoughts through Art. So hopefully you will like my creepy creatures.
The Inktober is an amazing challenge and you should definitely try it ! If not this year, next year for sure!
Subscribe to our newsletter so you won't miss the next article where we discover if our artists finish the challenge. And you can look forward for more amazing drawings!
Do you think the artists will finish the Inktober challenge? How do you like their work so far? Are you also doing the Inktober? Let us know! Stay tuned for another article.