Altered states of consciousness have long inspired us to create otherworldly, transcendental art forms. As we've touched on before, any creative project sources from within. Then, the artist's creative expression of the intangible manifests, depicting the energy of dreams, emotions, and visualizations.
Though this art style may not be everyone's cup of tea, the art of altered states is an engaging and mystical experience. So, come "turn off your mind, relax, and float downstream" as we explore a few ways we can safely access altered states of consciousness, and check out a few artists on my admirer's list.
Visionary Art
Art of altered states ('psychedelia' or 'visionary' art) encompasses visual representations beyond the physical world. Spiritual and mystic themes thread throughout visionary art's often abstract, patterned, bold, and colorful nature. But, ultimately, at the heart of imaginative art is the expression of the spirit, of the inner world of human consciousness.
I feel it's essential to include an exciting fact here before exploring the artworks themselves. While partaking in psychoactive substances alters our state, it is not the only means to do so. Our minds take us to a sub- and un-conscious state every night! Dreams can undoubtedly paint some elaborate and otherworldly visuals for each of us. All we need is to rest our heads! Below I'll briefly explain a few more ways we can reach altered states of consciousness, where many find inspiration to create visionary art.
Methods to Achieving Altered States
Dreaming
Close your eyes, rest your sweet head! Though many of us feel we only vaguely remember the content of our dreams, dream art stems from inspirations from one's dreams or conveys commonly experienced themes in 'dreamland.'
Not for the faint of heart, some of the most frightening and yet mesmerizing dream art I have seen depicts experiences of Sleep Paralysis. Check it out if you like, but be forewarned!
Breathwork
Breathwork refers to consciously taking control of one's breathing pattern, usually shifting the ratio of depth and length of inhaling – to – exhale to change one's physical and energetic state. More intense and therapeutic forms of breathwork can bring risks to certain people and should be practiced with supervision and/or with trained facilitators. Specific methods aimed at supporting people to achieve altered states of consciousness through breath include holotropic, shamanic, and rebirthing.
Dance/Movement
Moving our bodies in playful, expressive ways brings us back to primal roots. Whether to the beat of our own hearts, a drum, the roar of rushing water, truly – any rhythm we can align ourselves to in the present moment. Dance is often considered an inevitable portal to an altered state.
There are several styles of dance specifically catering to deepening one's spiritual connection. Some include 5Rhythms, Movement Medicine, and Ecstatic Dance.
Psycho-active Substances
Ah, the 'Mario Kart arrows' to altered states. Every psychoactive substance use varies in psycho-social, legal, and physical risks and should not be engaged with mindlessly. Bohemians' Minds by no means endorses nor advocates for the benefit of illegal or dangerous substance use.
That said, psychoactive substances have been a part of human culture for millennia. They are inspiring more than just impressive works of art, as you can dive into through the Tryp Therapeutics link below. Psychedelics have been used ritualistically to transcend the ego and serve outstanding therapeutic purposes in rites of passage. Some of the oldest recorded cave paintings idolizing psilocybin mushrooms date back over 4000 years across Northern Africa and Europe.
Altered States Through History
Check out this beautiful infographic below for an expansive overview of mind-altering substance use throughout human history!
Visionary Art at Festivals
A more modern collective celebration of the art of altered states can be found throughout art, spiritual, and wellness communities, often featured at festivals. They may feature black-light/UV, luminescent, neon mediums with spiritual themes and detailed patterns to mesmerize and evoke wonder. Many attendees shared that these artworks speak to the whim of human emotions, subjectivity, and 'oneness' felt between humanity, nature, and the universe.
Some of my favorite art installations and gallery pieces displayed at art communities/festivals include: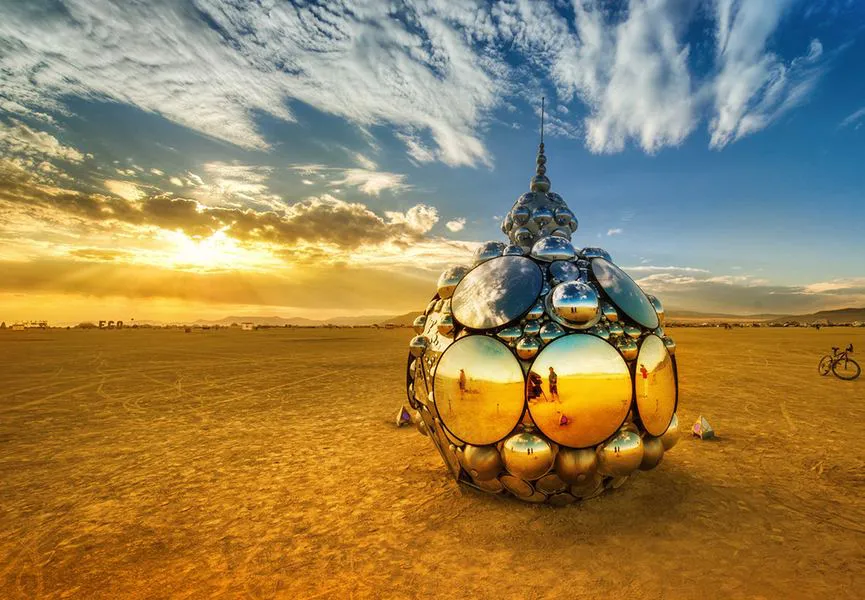 Burning Man is an international art community epicenter that invites us to reflect upon our eyes as our gifted tools of perception. This psychedelic piece combines resemblances to the Buddha's head, Mandelbrot fractal, and insect eyes. The intention is to blur the illusion of having different perspectives, supporting the foundation of interconnectedness.
"The eagle for Native Americans Indians wasn't the raptor bird of our Founding Fathers, but the one that flew closest to God,"

Most of us who build at Burning Man do it as a form of self exploration, not to please the art establishment — even though well-established artists are now competing for space out there," she said. "Sacred Mirrors, like Burning Man, uses art for personal reflection, so it has found a perfect new home."

Kate Raudenbush
Raudenbush's "Altered State" is now installed out on the lawn of Alex and Allyson Grey's Chapel of Sacred Mirrors.
Check out Boom Festival's official online galleries here.
Shambhala Music Festival promotes safety and community above all, with proactive harm reduction and safe spaces for supporting guests. Psychedelic Art is a significant feature in the immersive experience.
Celebrated Visionary Artists
Creative inspiration can come from all around you (remember, keep that Nothingbook close!). What follows are a few of my favorite visionary artists. Please share some of your favorites, including your very own artworks, in the comments!
Alex and Allyson Grey
Two of the most known and celebrated living visionary artists in the psychedelic community are Alex and Allyson Grey. Their incredibly colorful and detailed hand-painted works of art convey many levels of reality.
It is certainly worthwhile to check out their paintings and books. Also, their incredible achievement in creating their very interfaith church, permanent art exhibition, and non-profit, Chapel of Sacred Mirrors (CosM).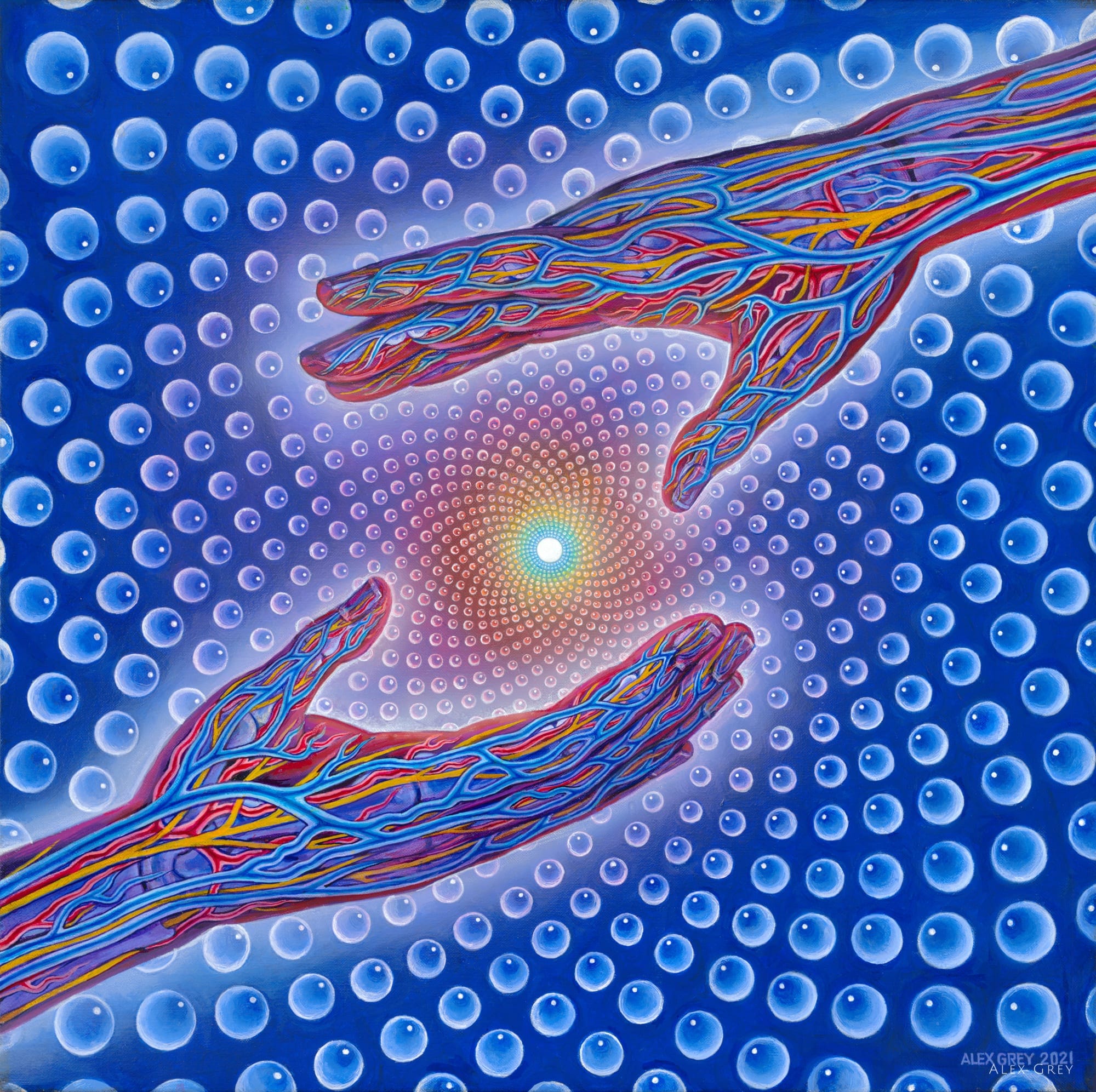 "The artist's mission is to make the soul perceptible. Our scientific, materialist culture trains us to develop the eyes of outer perception. Visionary art encourages the development of our inner sight. To find the visionary realm, we use the intuitive inner eye: The eye of contemplation; the eye of the soul. All the inspiring ideas we have as artists originate here."

Alex Grey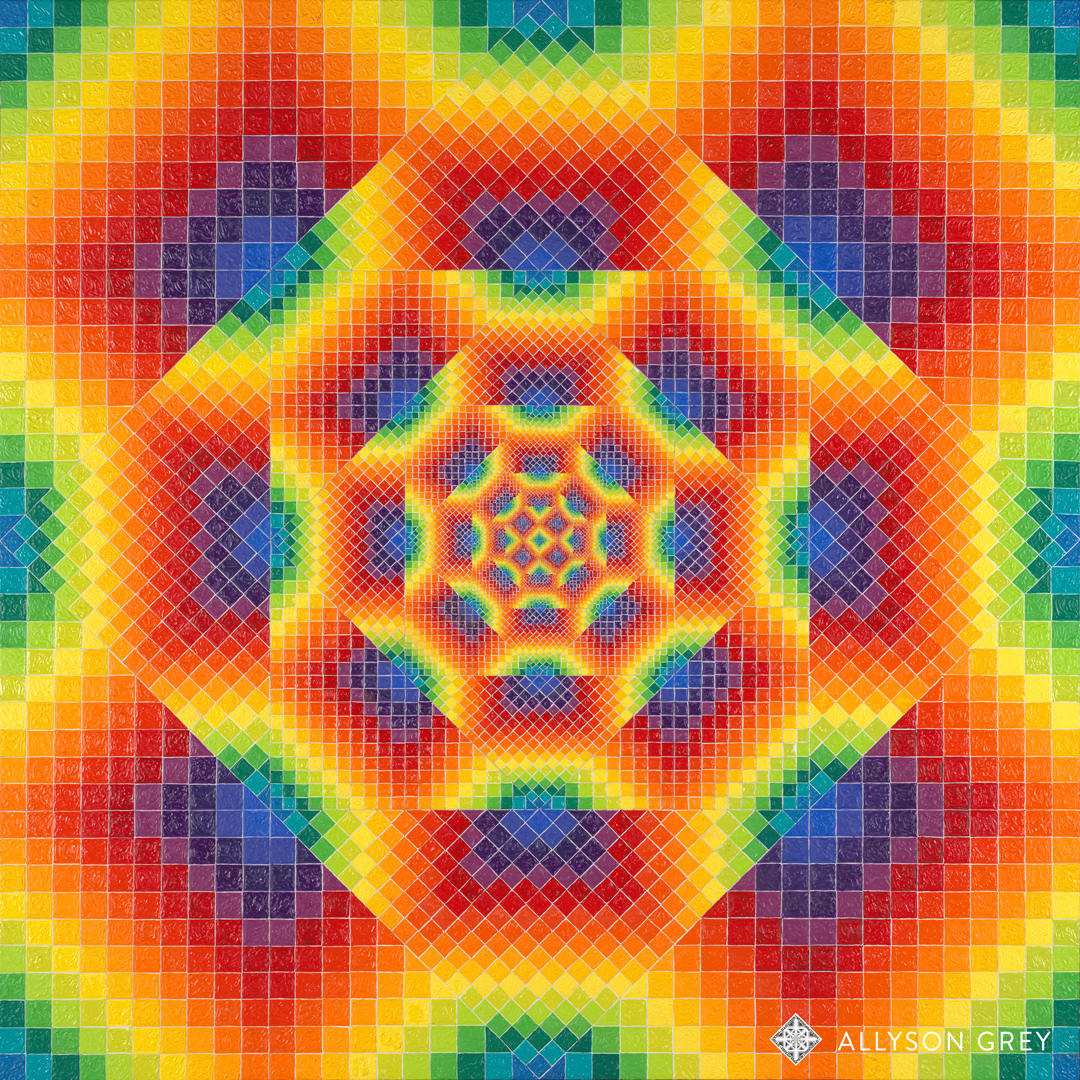 "Realism and Naturalism rely mostly on the eye of the flesh. Abstract, conceptual and surrealistic art rely mostly on the eye of the mind. Great works of art rely on the eye of contemplation, the eye of the spirit."

Alex Grey
Android Jones
Android Jones is a personal favorite of graphic artists out there. His detailed, layered, higher-frequency artworks all over tapestries, gallery walls, clothing, notebooks, and more. He is a proponent of employing technology as a modern extension of our own collective consciousness. art, he says, is the ultimate expression of the universe's consciousness and that we are its miraculous medium.
"I have seen things in this life that I am incapable of translating into words. In my practice I have visited realms where the imagination ends, and the terrifying beauty of infinity unfolds over and over again.

If I could distill into words exactly what motivates me to create the art that I make then it would not be worth making it. Instead I have chosen the Pen."

Android Jones, 2013
His work, "Union" featured above, he believes is his "best attempt to describe the love between two Earthlings." He commissioned this for his two close friends as their wedding gift. :O Jaw dropped.
Chris Dyer
Combining ancient, shamanic wisdom with visionary Art, Chris Dyer is a Peruvian artist currently living in and offering art classes through the Montreal Museum of Fine Arts in Montreal, QC. He names the thread throughout his creative process and paintings as universal interconnectedness. Check out his beautiful and bright works here at his own Positive Creations.
I am passionate about making the best of life through cherishing relationships, exploring worldly experiences, and cultivating a creative lifestyle of art, music, dance, and fitness. I am a self-taught painter, inspired by the sublimity of nature, consciousness, love and universal transcendence that binds all of humanity and nature, together.